Hornetdrive's new look –
Version 5 is here!
This update includes bug fixes and latest security updates.
Business is enterprise is business
Users of a business licence have two reasons to celebrate: The new Hornetdrive version not only offers them a new user-friendly design, but also more functions. The update now provides the business version with the complete range of functions from the enterprise version. Data distribution via a URL, local file deletion and the integration of network drives are features that customers with a business licence can now look forward to using – at no extra charge.
We have fundamentally revamped the operation and design.
The same look on all devices
Hornetdrive is not only extremely secure, but also very intuitive now, because Hornetdrive now looks the same everywhere! Whether you use the client on your desktop computer, in Windows or iOS, on your Android or your Apple smartphone: the design stays the same. This facilitates operation enormously, as you no longer have to constantly readjust.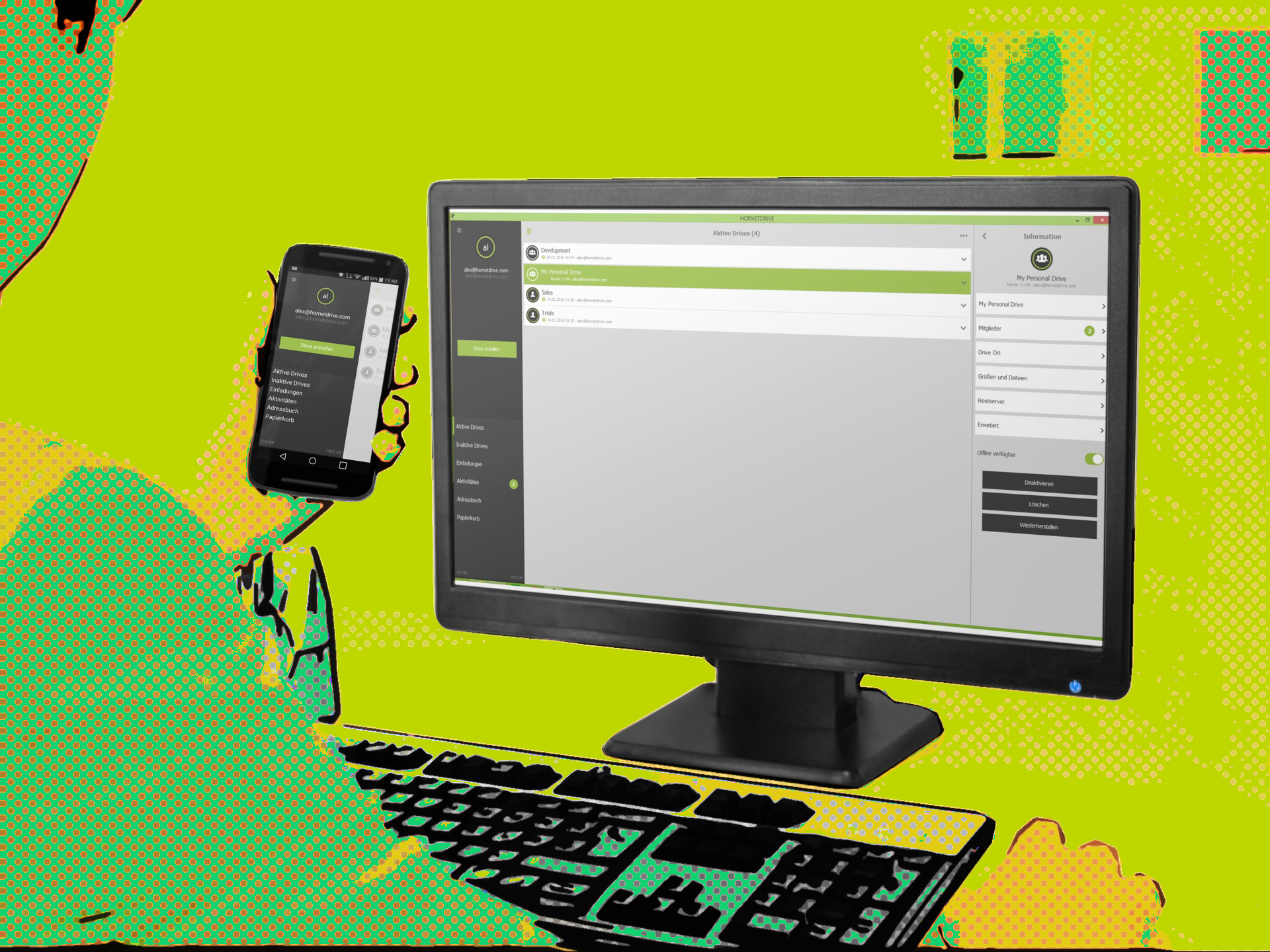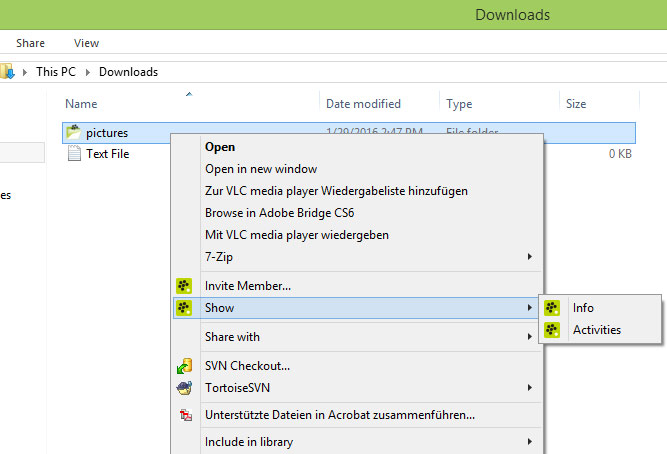 Integration into Windows Explorer
Hornetdrive is now part of Windows. Right click – create the drive – done! You can create drives directly using the context menu in the Windows file system. By right-clicking on an existing directory, it can be converted into a drive. What's more: You can use the context menu to display information and activities on drives.
Current changes are displayed
The new Hornetdrive version is characterised by one intelligent new feature in particular. The "Drive icon" constantly keeps users informed of changes in the network. If, for example, another Hornetdrive user updates a text document, you will immediately be notified of the change. The Drive icon will turn green in this case. If no changes are available, the icon is displayed in white.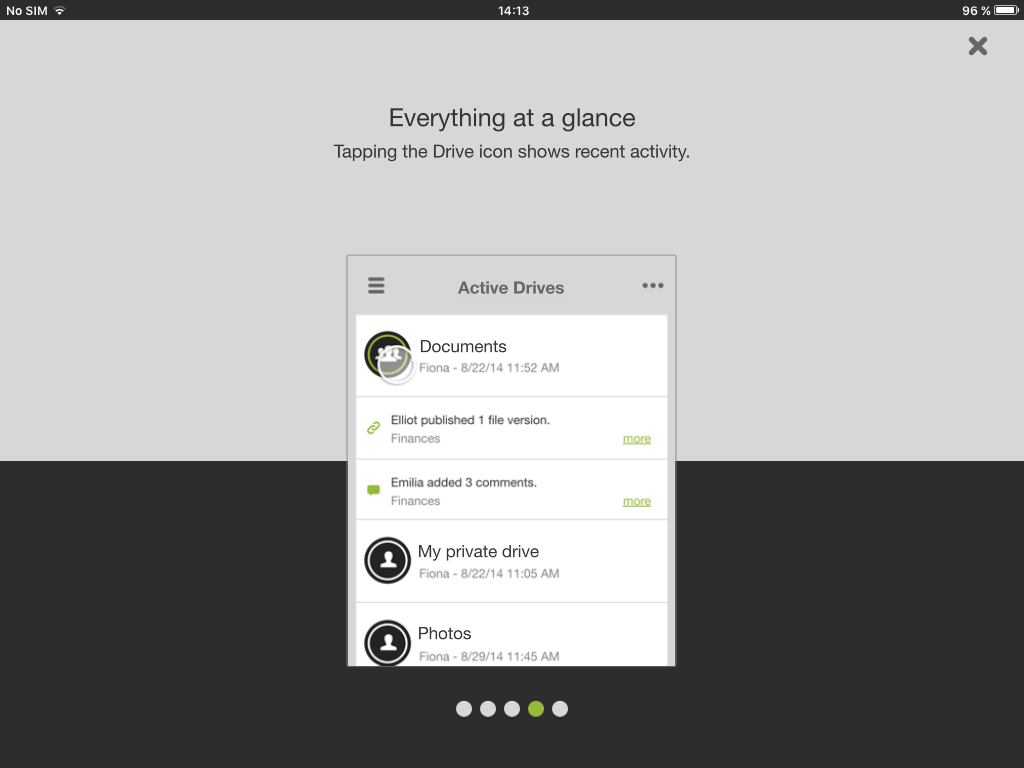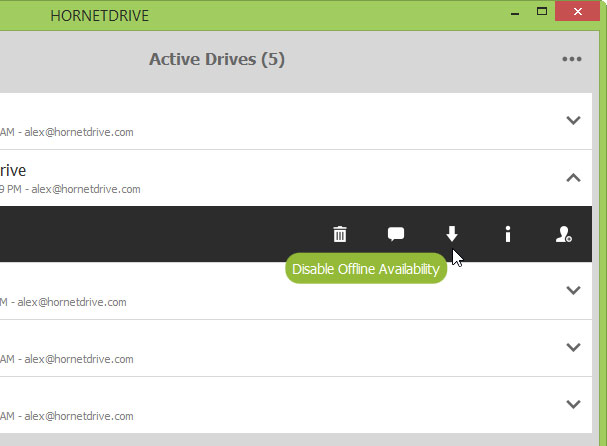 Have your data locally or just in the cloud
Switch the online availability of your files on or off. It has never been easier to manage the automatic synchronization of your files. With just one click you decide whether a file, a folder or a whole drive shall be downloaded onto your system and synchronized regularly and automatically. If the offline availability is switched off, the local files will be deleted and stored solely in the cloud. After activating the offline availability, your data will be saved on your device and synchronized automatically.
Look here to find the new Client for your system
Like Hornetdrive, but don't have an account yet?
Then go ahead and test Hornetdrive for 30 days for free!
Create account now!